Wow, how time is flying by. It's already Spring and I'm still dishing out my wintery recipes. Oh well, I guess it's not too late for those of us further away from the equator. I have no doubt it will be winter down here for another few weeks.
In fact, as I write this, I'm peering out the window to a grey and misty darkness. I'm sipping on tea of course because that's what afternoon's call for, and I'm day dreaming of sunny days. Not too long now. Glimpses of sunshine are growing in numbers, and my travel to Japan is looming in the now foreseeable future. 'Foreseeable future' defined as –rescheduling work meetings because I'll be in Japan, declining social activities because Japan, not buying anything new because, well you get the picture.
Robbie and I are going to Japan in October, and I cannot wait! I'm even considering taking my 'good' camera so I can share my friendly food finds with you on my return – what do you think? Should I broach the food travel blog life?
So as Winter has come to an end, so has my collaboration with 
Pureharvest
 (sadly). It's been awesome working with an Australian brand I love, and creating fun new recipes for them, with their great organic products. In case you missed the other recipes and interview, you can check them out here: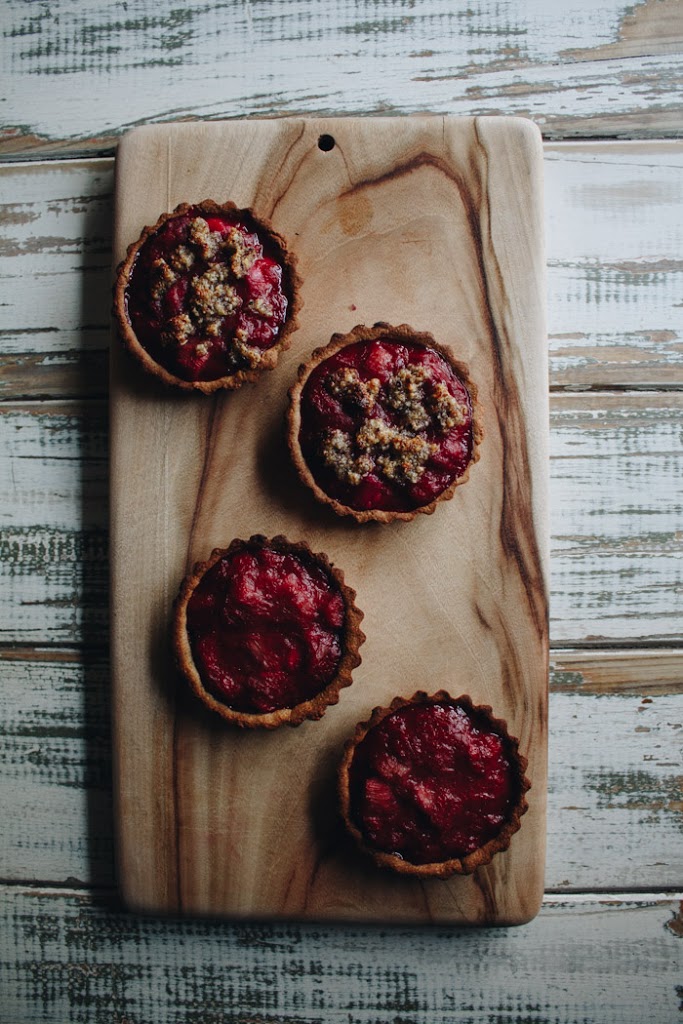 This final recipe is one I'm particularly in love with at the moment. Rhubarb is one of the craziest vegetables going around, yet oh so amazing. For something so hardy and tart, it only takes a little bit of love (ie. 15 minutes on the stovetop and a sprinkle of sugar) to transform it into a lusciously vibrant and sweet compote. Which naturally can be turned into delicious desserts like these rhubarb tartlets. What more? Rhubarb is low FODMAP, so it makes the perfect alternative to apple for those of you missing apple crumble and apple pies.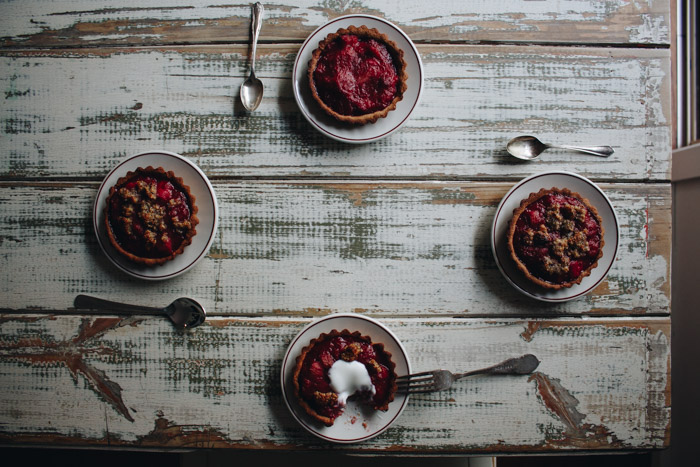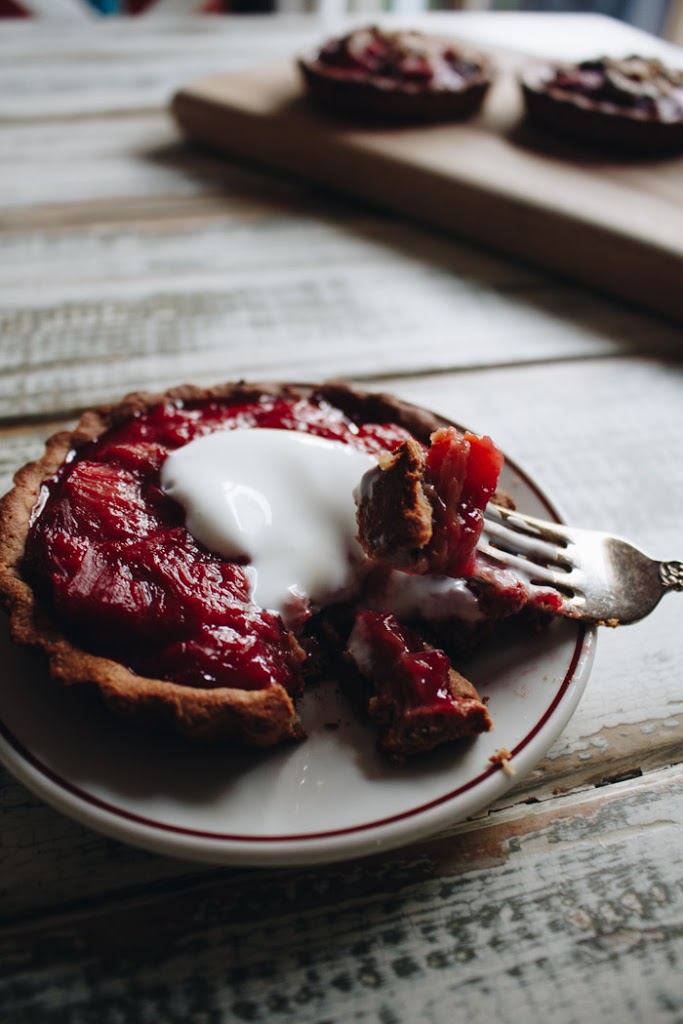 Gluten Free Rhubarb Tartlets
Makes 6
Shortcrust:
1 1/4 cup buckwheat flour
1/2 cup hazelnut meal
1 tsp ground cinnamon
50g unsalted butter
Pinch of sea salt
2 tbsp rice malt syrup
1 egg
Filling:
2 tbsp rice malt syrup
500g rhubarb, cubed
Rind of half an orange
1/2 tsp vanilla extract
Optional extras:
1-2 tbsp hazelnut meal
1-2 tbsp rice malt syrup
Yoghurt for serving
Combine flour, hazelnut meal, cinnamon, butter and salt in a large bowl, and crumb together. Add egg and rice malt syrup, and mix to form a soft dough. Wrap and place in the fridge. Grease tins very well with butter. Divide dough into 5 equal balls. Roll out and lightly press the dough into each tartlet tin. Press down around the edges to remove excess, and use the excess on the 6th tart. Bake for 10 minutes.
Place all filling ingredients in a small saucepan on medium heat. Allow to simmer for 15 minutes or until the rhubarb has softened but still holds it's form. Spoon filling into the cooked tart shells. If you like extra sweetness, then mix together some additional hazelnut meal and rice malt syrup, and dollop on top of the filling. Bake for 10 minutes. Serve with yoghurt of your choice.
Enjoy!
Low FODMAP | gluten free | low lactose | refined sugar free