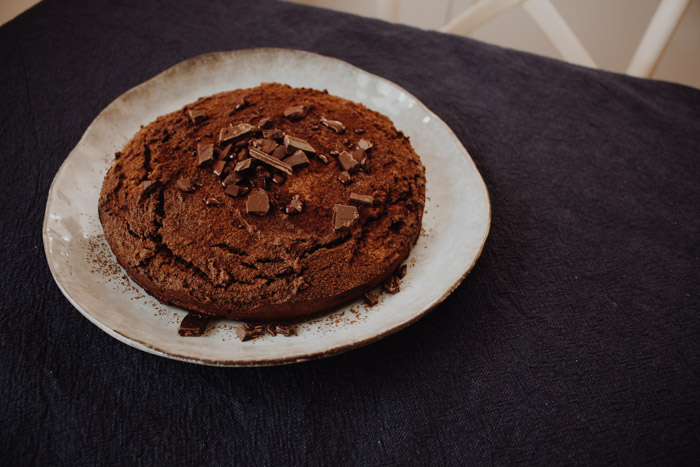 As promised last week, when I shared my delicious Golden Vegetable Fritter recipe, I bring you the second instalment of the four recipes I created for Pureharvest this month, as a part of being their August Favourite Foodie. I have two more really exciting recipes to come for the series, so stay tuned or subscribe to my email newsletter to be the first to know!
So today's recipe is a Chocolate Almond Cake, it's gluten free, low FODMAP, lactose free and refined sugar free. It's also one of those sweets where a small slice goes a long way. It's rich and decadent, and you don't need much to feel satisfied. BUT, if you do happen to want to keep on eating, (because chocolate and we all human) go ahead. This cake is barely a cake in the traditional sense. It's packed with good ingredients, and I'd go as far as saying it's a healthy snack ;) so go ahead and get baking.
Chocolate Almond Cake
Makes 1 cake, serves 8-12
1 cup almond meal
3/4 cup white rice flour
1/2 cup raw cacao powder
2 tsp ground coffee
1/2 tsp baking soda
1/2 tsp gluten free baking powder
Pinch of sea salt
3 eggs
1/2 cup rice malt syrup
1/3 cup almond milk
1/3 cup coconut oil, melted
70% dark chocolate
Preheat oven to 170C and line an 8-inch springform cake tin with baking paper. Whisk egg whites and half the rice malt syrup until soft peaks form and set aside. Combine dry ingredients in a separate bowl, then add all remaining ingredients and stir until just combined. Fold through the egg whites in three batches. Pour into cake tin and bake for 30-35 minutes. Top with melted dark chocolate or simply crush some over the top whilst the cake is still warm.
Enjoy!
Low FODMAP | gluten free | lactose free | sugar free