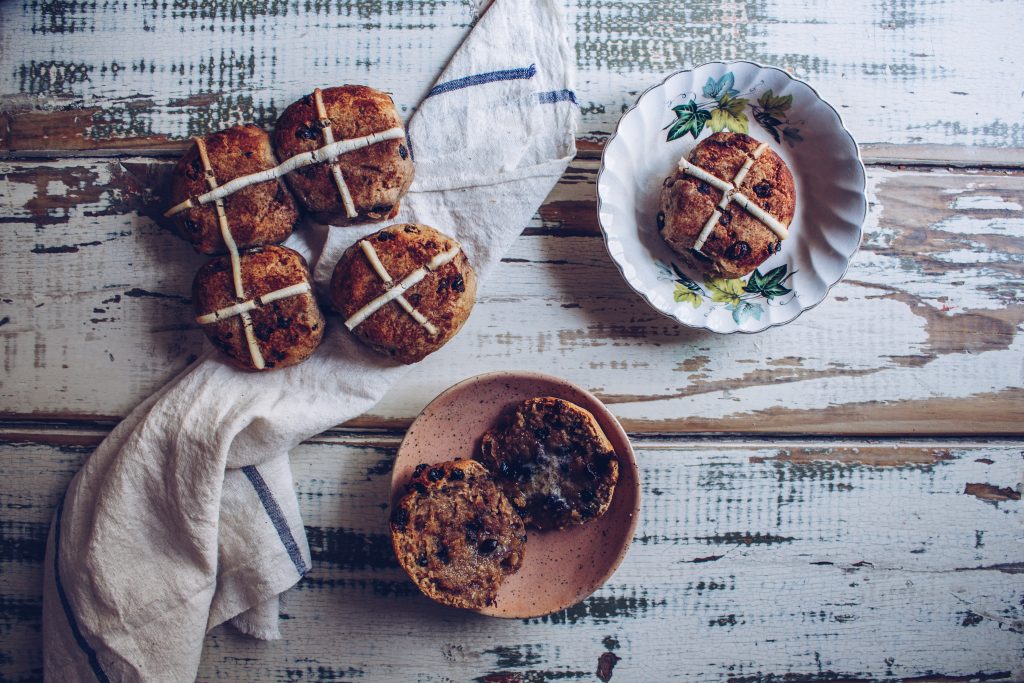 A few years ago I created and shared a Spelt Hot Cross Bun recipe – it was life changing. Eating freshly baked hot cross buns, steaming from the oven, lathered in butter, was not something I had done for years prior. With this recipe in tow, I started eating a bun a day in the lead up to Easter. True bliss.
Organic, sieved spelt flour is flagged as low FODMAP in the Monash FODMAP App, and is what I use in the Spelt Hot Cross Bun recipe. This was (and still is) great for me, great for others who can tolerate spelt, however not so great for my strictly gluten free readers, those who perhaps have coeliac or simply cannot have any gluten at all. That's where this post comes in. I wanted to create a delicious bun that whether you're gluten free, low FODMAP, dairy free or none of the above, you could enjoy one (or two) without batting an eyelid. So here you have it – a tried and tested Gluten Free Hot Cross Bun as delicious as any.
If you've made my spelt buns before, this recipe will be a piece of cake (bun?). It's very similar, just with alternative flours, and less kneading and resting. Have a lovely Easter and enjoy your hot cross bun eating!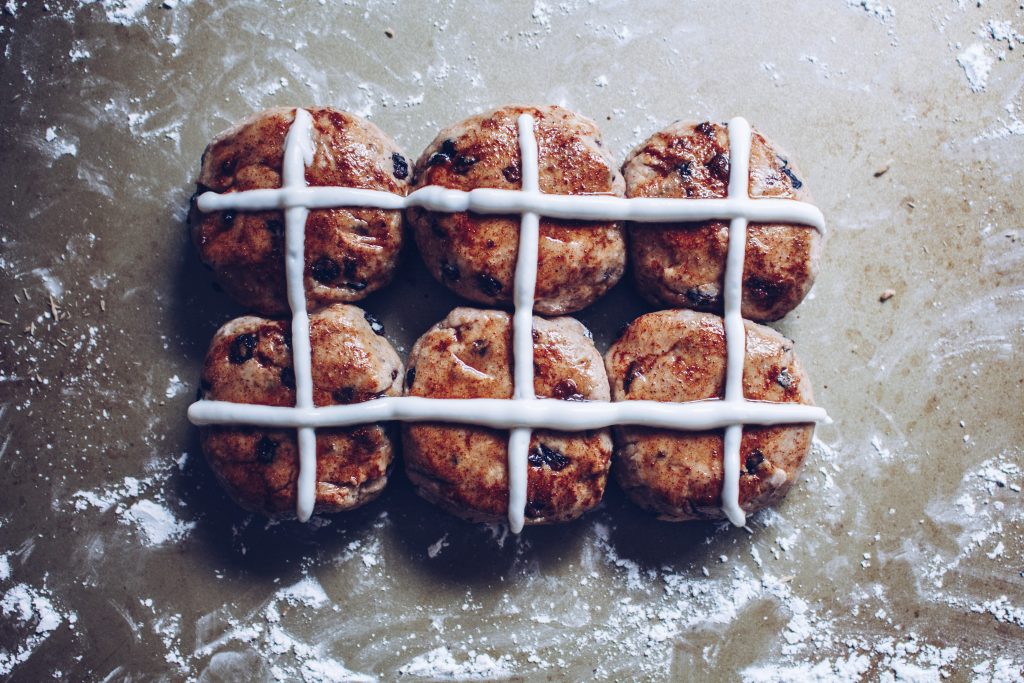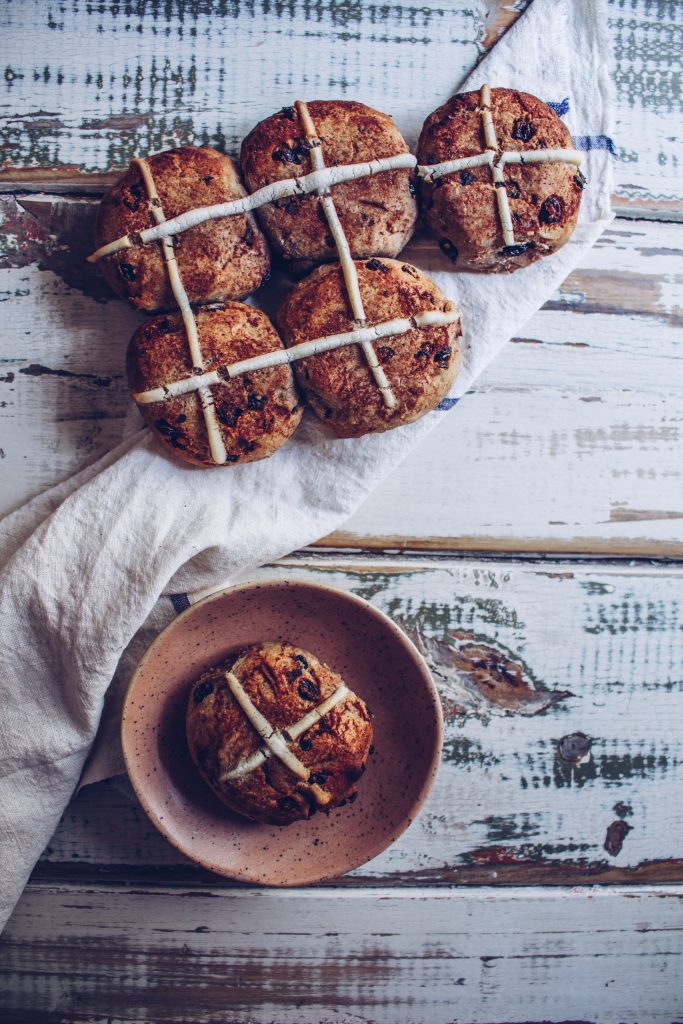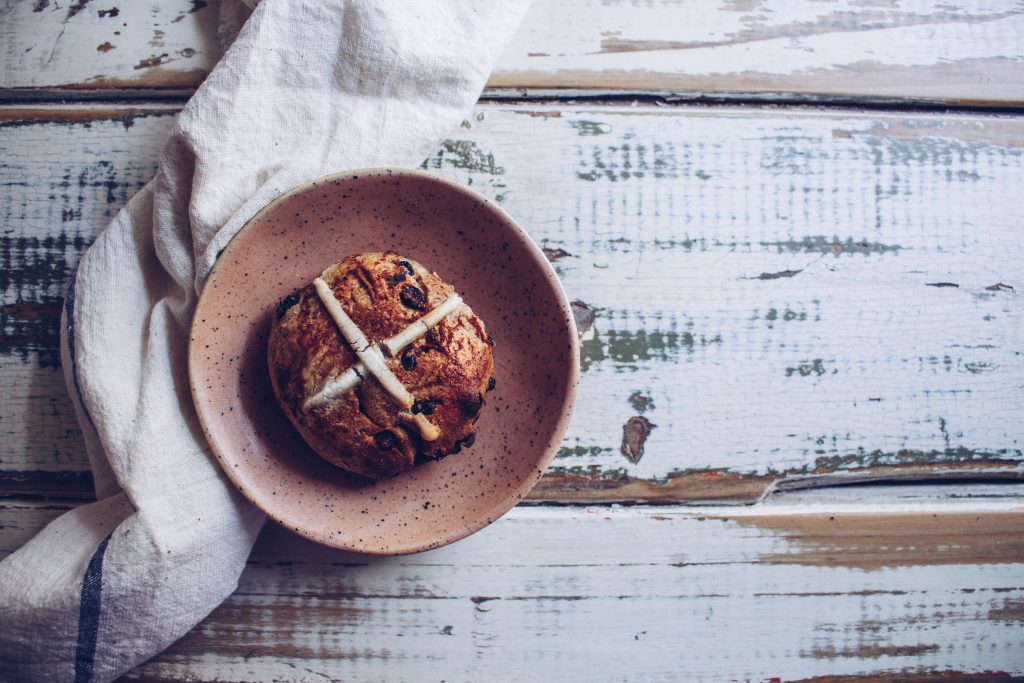 Gluten Free Hot Cross Buns
gluten free, low FODMAP, dairy free
Makes 6 buns
3/4 cup fine rice flour
3/4 cup almond meal
3/4 cup tapioca starch
1 tbsp psyllium husk
1 tsp cinnamon powder
1/2 tsp ground nutmeg
1/2 tsp sea salt
150ml almond milk
1 sachet (7g) dried yeast
1 tbsp + 1 tsp brown sugar
3 tbsp coconut oil
1 egg, lightly beaten, room temperature
60g currants or raisins
Cross paste
2 tbsp rice flour
1-2 tbsp cold water
Glaze
1 tsp sugar
Cinnamon
Boiling water
Combine flours, psyllium husk, spices and salt in a mixing bowl. Heat milk in a small saucepan until luke warm. Poor half of the milk (make sure it's not too hot) in a mug with the yeast and 1 tsp of sugar. Gently stir, cover and set aside for 10 minutes until it becomes frothy. Add coconut oil and 1 tbsp sugar to the remaining warm milk and stir until melted.
Mix the yeast mixture into the dry ingredients, followed by the milk mixture, egg, and lastly the dried fruit, mixing each addition until combined. Cover with glad wrap or a damp tea towel and place in a warm spot to rest for an 1 hour.
Preheat oven to 180C. Divide the dough into 6 equal portions, roll into balls and arrange closely on a tray. Prepare the cross paste by slowly mixing water into flour to form a smooth thick paste. Spoon into a snap-lock bag, snip a little hole in the corner and pipe your crosses in continuous lines. Bake for 18-20 minutes.
Prepare the glaze by mixing ingredients together, dissolving the sugar in the boiling water. Brush the glaze over warm hot cross buns and serve. Freeze any buns you don't devour on the day of baking.
Enjoy.