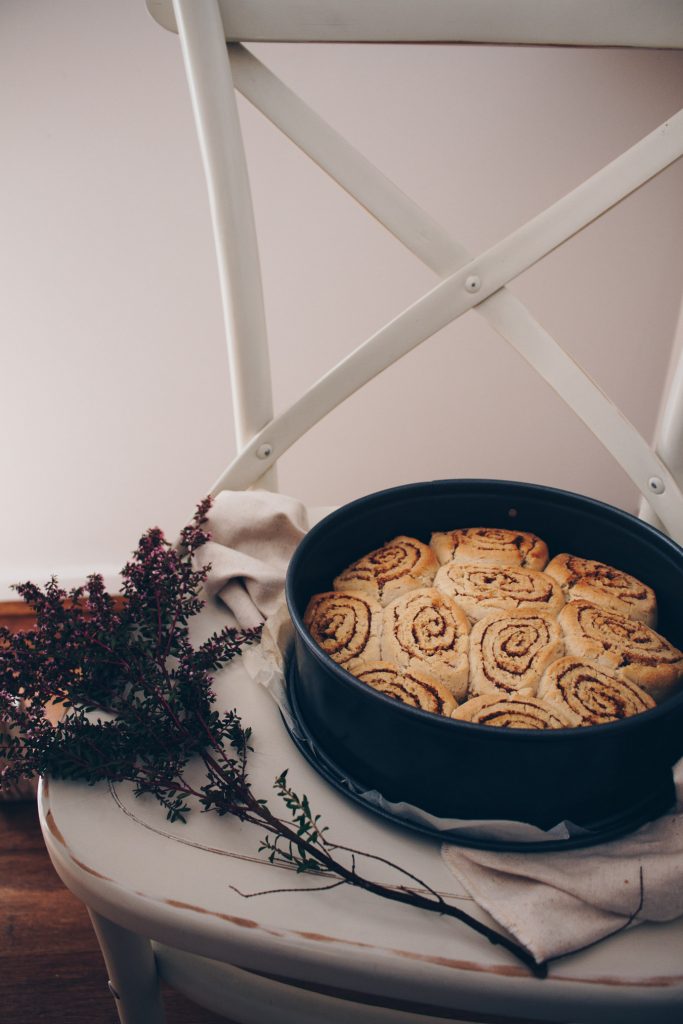 Cinnamon scrolls and life lessons. The perfect combination, right?
Recently I fell into a TED Talk spiral. One similar to those that you've probably experienced on YouTube. You know the one…one video leads to another, to another, and another. One minute you're listening to your favourite tunes then suddenly you're watching a DIY on how to create backdrops for your next food styling post. Yep, that's why they call it a spiral.
This TED Talk spiral started innocently enough after being sent a thought provoking video at work. It was an inspiring work-related talk on teamwork but that quickly finished and I found myself moving through the bottomless depths of life lessons, one TED Talk at a time.
The video I've been thinking about ever since is "How boredom can lead to your most brilliant ideas."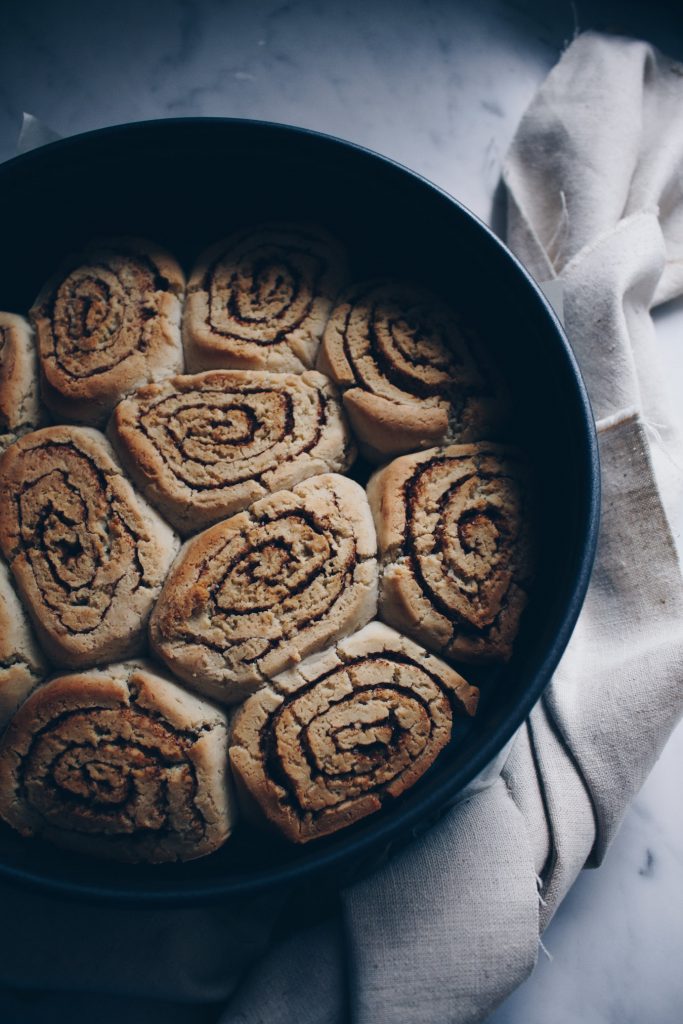 I didn't need to watch it to know that this was my jam. Of course I did watch it, and what was astonishing to learn was the huge impact phone time is having on our ability to be creative, or more specifically, how our inability to switch off is limiting our opportunities to tap into the creative side of our brains.
It sounds fairly obvious, but when something has become so ingrained and second nature in your world it's difficult to see the bigger picture. Each week I find myself seeking 'free time', a bit of space in the diary to not do a whole lot. Sometimes I think Robbie thinks I'm crazy when I say all I want is to do nothing at all, a day with no plans.
But this video explains it! I'm craving space and true boredom, the type that drives you a bit crazy but then leads to blowing the dust from my sewing machine and making a new skirt, rummaging the pantry and baking something weird and wonderful, or doing something I haven't quite thought of yet (because ya know, creativity!).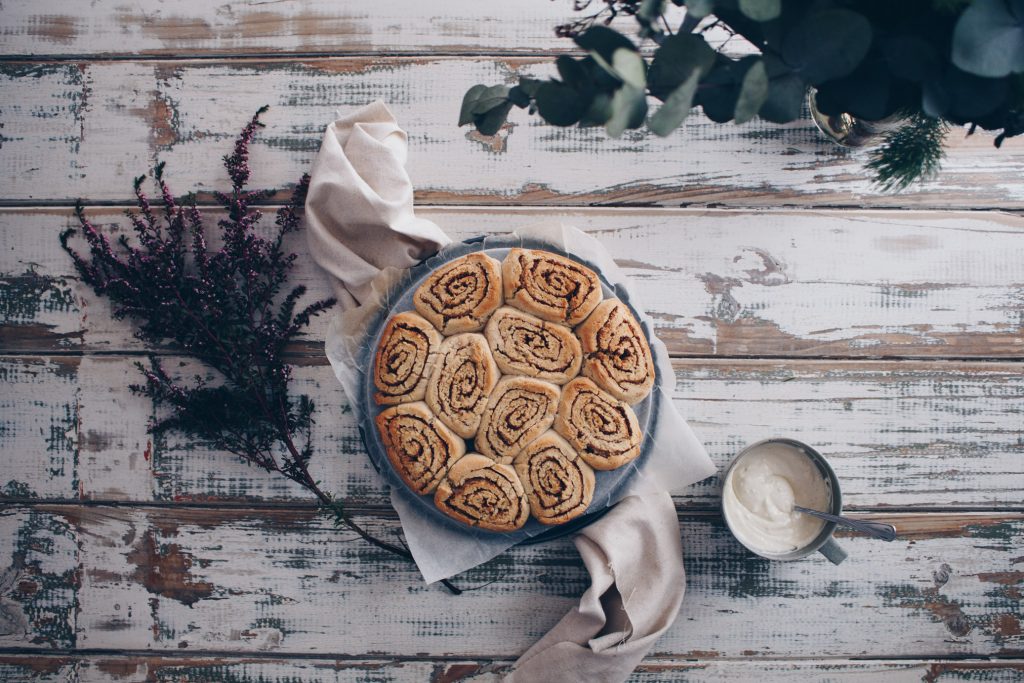 It got me thinking back to childhood moments where I would routinely find myself struggling with boredom. Wandering around the house aimlessly with what felt like nothing to do. Until something came to me, and suddenly I was busily darting about. This was before the proliferation of digital everything, where not having a phone leave the 10cm radius that surrounds your body was a non-issue (seriously, what have I become!? haha). I loved it.
Days where I didn't leave the house and was forced to explore, create and re-imagine were the best. I'd set up shop with my number 1 side-kick/sister, make pretend baked goods out of paper or whatever was lying around, paint stills of almost anything, and even record our very audio version of The Price is Right. This TED talk was speaking to me. Where has my boredom gone!?
But all is not lost. I managed to free up a whole afternoon a few weekends back to create this rad recipe for gluten free cinnamon scrolls – that's a win, don't you think? I've also made some moves in the right direction to minimise mindless phone time, like last year I turned off all notifications on my phone, bar text messages. I couldn't believe how this simple act could cut out so much scrolling. TV-free Wednesday night wasn't so much as a success but hey, it's a work in progress.
Back to cinnamon scrolls. I am over the moon with how this recipe turned out. Making gluten free baked goods taste as good as normal is never an easy feat. This one took a few trials and takes some care to make, but if you give them ago, I'm positive you will love the end result! They are seriously delicious and spongey and taste like real cinnamon scrolls. Be sure to eat them warm with a slathering of cream cheese (lactose-free if need be). You might even like to turn your phone off while you enjoy them. You never know what creative thoughts and ideas might come of it…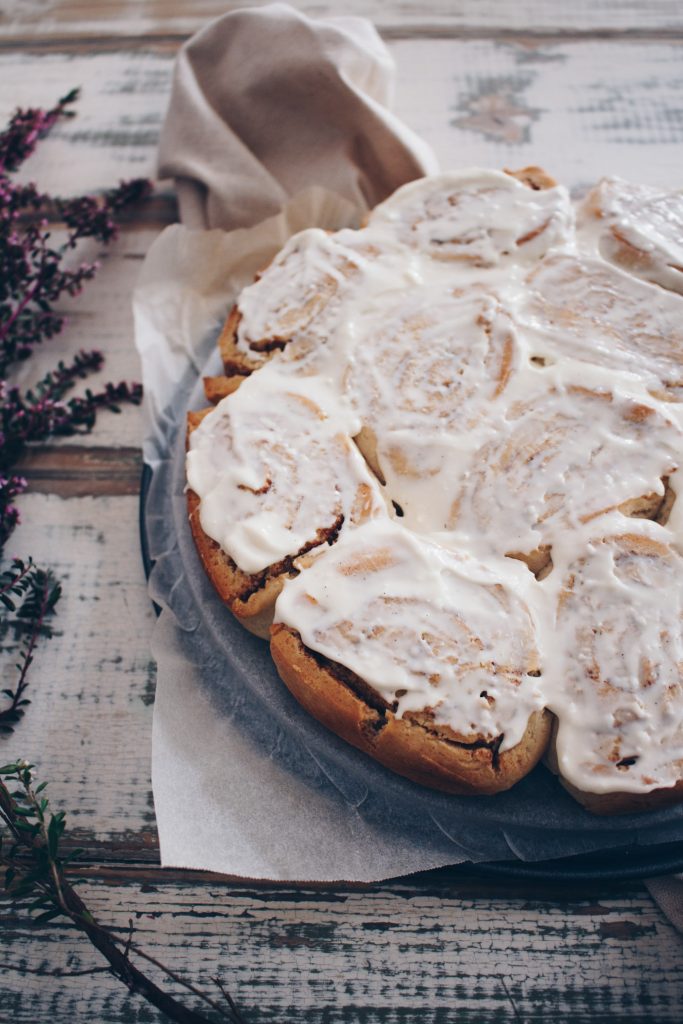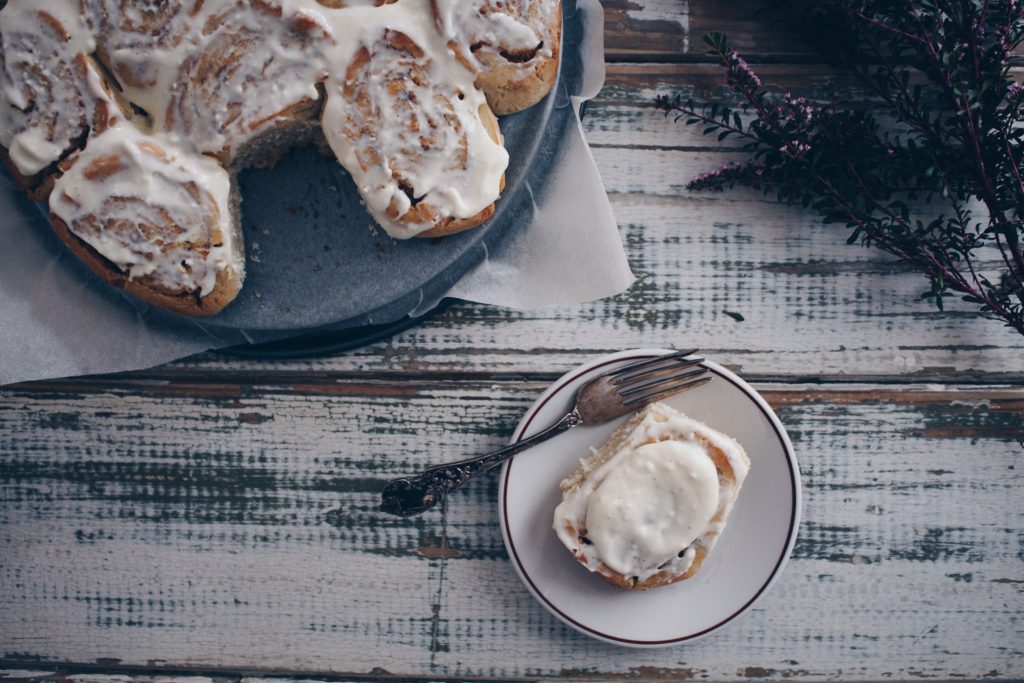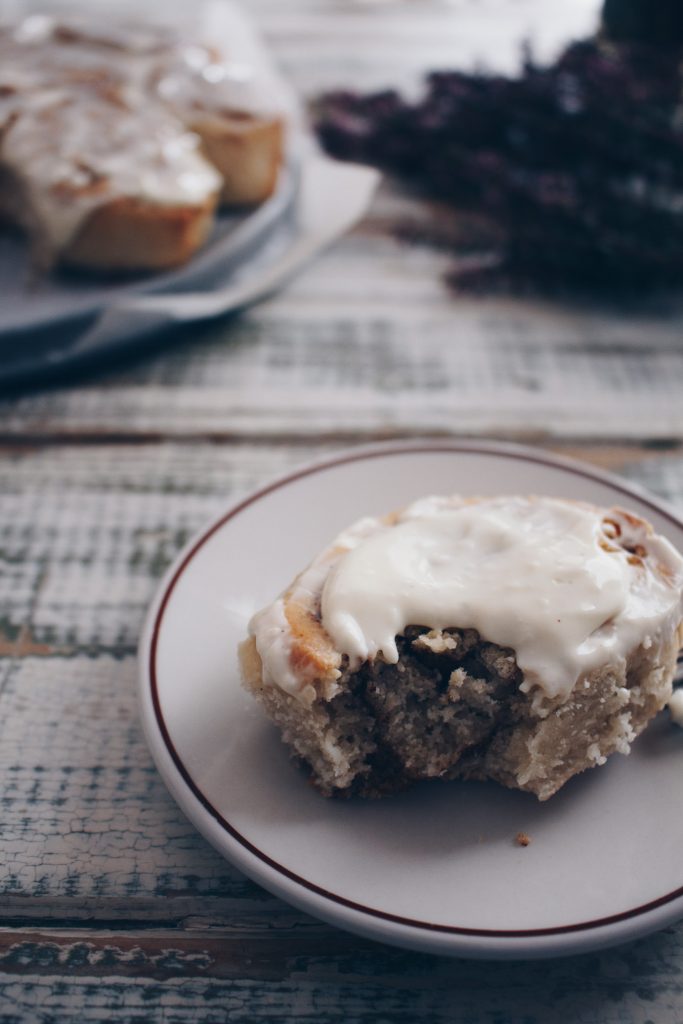 Gluten Free Cinnamon Scrolls
Makes 12-14 scrolls
Dough
1 cup almond milk
60g unsalted butter
7g (or 1 sachet) dried yeast
2 tbsp raw sugar
1/4 tsp salt
1/4 tsp ground cardamom
500g (or 4 cups) plus extra for dusting, SR gluten free flour (I used a mix consisting of potato flour, tapioca flour, rice flour and raising agents)
1 egg, room temperature
Filling
50g unsalted butter, softened
1 tbsp ground cinnamon
1 tbsp raw sugar
Frosting
120g lactose free cream cheese
½ tsp vanilla bean paste
2 tbsp almond milk
2 tbsp icing sugar
Heat milk and butter in a small saucepan until warm and melted (not boiling), add the yeast and set aside to activate in a warm place for 10 minutes. Combine sugar, salt, cardamom and half of the flour in a large bowl. If you have a stand mixer with dough hook, I highly recommend you use this as the dough is very sticky to begin with. Add the egg, and yeast mixture, and mix on medium for a few minutes until combined. Add the remaining flour and continue to mix until you have a sticky dough. Form the dough into a ball and place in a bowl covered with plastic wrap or a wet tea towel, and allow to rest in a warm place for 1 hour.
Stir the softened butter, cinnamon and sugar together as best you can. Between two large sheets of baking paper (lightly dusted with flour), roll out the dough into a large rectangle, approximately 1.5cm thick. Using a soft spatula, evenly spread the filling mixture on to the surface of the dough. Tightly roll the dough into a log – lengthwise for smaller scrolls or along the narrow side for larger scrolls (narrow side always wins;). Then with a sharp knife slice into 3cm sections. Place them into a greased baking dish. Preheat oven to 180°C and allow the scrolls to rest for 30 minutes. Bake for 25 minutes. Remove from oven and allow to cool before frosting.
Place the frosting ingredients into a bowl and mix well. Slather the scrolls with frosting and enjoy!!