I've fallen a bit behind on my four recipes in four weeks promise. Weeks seem to be flying by faster than I can keep up.
Work is busy, but fun busy, which is good, and Japlanning (Japan planning) for the end of the year is in full swing. But that means it's looking more like it will be four recipes in five to six weeks, not four! But don't worry, we'll get there!
This rice salad is the third of the four recipes I created for Pureharvest as their August Favourite Foodie, this time using their certified organic coconut milk, Coco Quench. The previous two dishes you can find here and here, and the last (but def not least) recipe is coming to you very soon indeed.
This dish is my absolute favourite rice salad. There is so much to love about it. The slight sweetness of the coconut rice, the crunch of the toasted almonds, the burst of sweet and sour of the barberries, and a big hit of herby goodness. It's the perfect accompaniment to a lovely piece of grilled fish or crispy fried tofu. It caters to many dietary needs – low FODMAP, gluten free, lactose free, vegan – so you can keep all your friends happy and it's a great one to take along to parties. It's also extremely versatile so have some fun and adapt it to your 'main' or mood! Swap fennel for zucchini (or onion, if you're not a fodmapper), almonds for hazelnuts, barberries for cranberries, mint for dill. The options are endless. Just the way I like it :)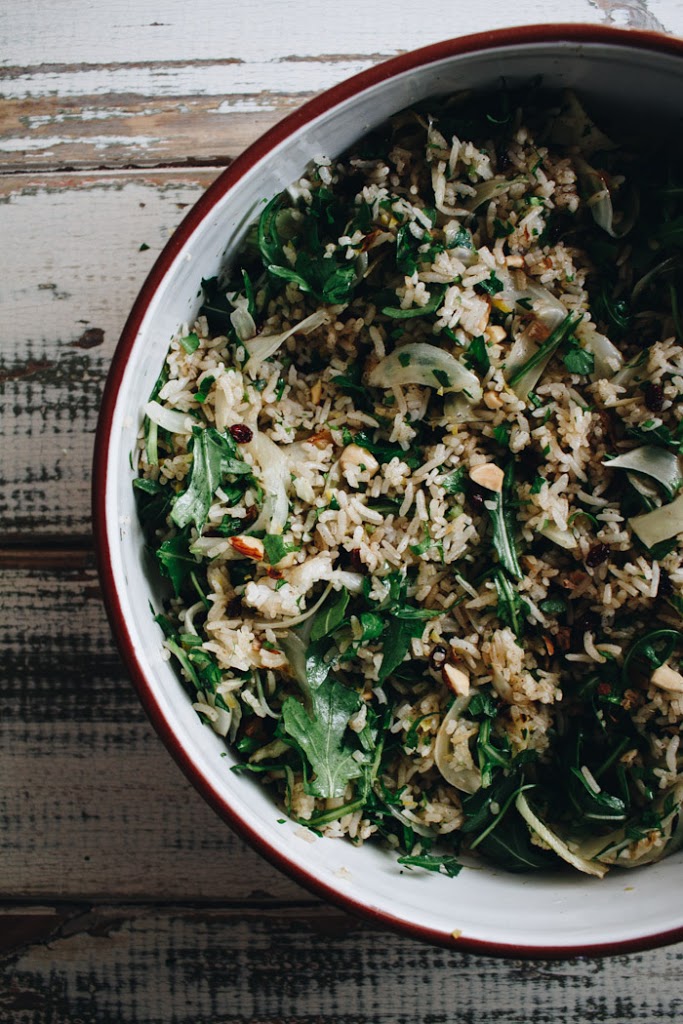 Coconut and Herb Rice Salad with Caramelised Fennel
Serves 4
1 cup basmati rice
1 1/2 cup Coco quench (or coconut milk)
Half a fennel, thinly sliced
1/4 cup toasted almonds, crushed
2 tbsp barberries (or chopped dried cranberries)
1 tsp ground cumin
1 tsp ground coriander seed
1/2 tsp ground cinnamon
A handful of mint, coriander and parsley, chopped
A big handful of rocket, roughly chopped
A few glugs of olive oil
Rind and juice of half a lemon
Salt and pepper, to taste
To cook the rice, place rice and coconut milk in a small saucepan with the lid on, bring to the boil then lower to a simmer for 15 minutes. To caramelise the fennel, place in a fry pan on medium heat with oil of choice (I use coconut oil) and stir occasionally until it begins to brown at the edges (about 5 minutes). Cover the pan and leave for about 10 minutes or until the fennel is nice and soft. Prepare the rest of your ingredients and toss together in a large serving bowl, and that's all!
Enjoy!
Low FODMAP | gluten free | lactose free | sugar free | vegan